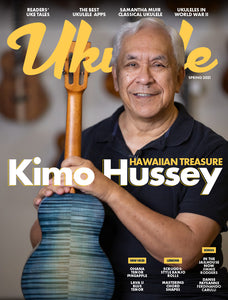 No. 32, Spring 2021
 On the cover is one of Hawaii's most-loved uke players and teachers, Kimo Hussey, who talks about his colorful life, his teaching philosophy, and his unwavering support for ukulele  builders. Greg Olwell provides a rundown on some of the Best Ukulele Apps for smartphones and tablets. Jim D'Ville profiles Australia's leading uke advocate, A.J. Leonard, and also looks at some of the advantages Adult Beginners have over kids learning uke. British uke ace Samantha Muir discusses the growing interest in Classical Ukulele. Sandor Nagyszalanczy unearths wonderful stories and photos of Ukes in World War II.
 Lessons and Songs
 Aaron Keim explores country music pioneer Jimmie Rodgers' fascination with Hawaiian music and offers a solo uke version of the Rodgers classic "In the Jailhouse Now." Samantha Muir shares her solo uke arrangement of "Danse Paysanne," by Italian classical composer Ferdinando Carulli. Jim D'Ville dives deep into the Major Scale. Daniel Ward examines ways to master Chord Shapes. And Fred Sokolow teaches how to play Earl Scruggs-style Banjo Rolls on the Uke.
 Gear Reviews
 We check out a pair of cool new tenors: the Ohana PKT-25G pineapple and the futuristic, carbon fiber Lava U Blue.
 Also
 Readers tell Uke Tales about dealing with the pandemic and their love of ukulele; custom uke-maker Jay Lichty; Great Ukes: 1920s Peter Pan ukuleles; and Ten Great Uke tunes from the '20s.
 And we peek into the world of custom uke-maker Jay Lichty.
---