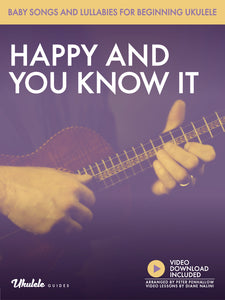 Baby Songs and Lullabies for Beginning Ukulele: Happy and You Know It
Learn to play "Happy and You Know It" on uke! This downloadable lesson contains music, chords, tab, and lyrics plus basic tips for beginners. 
The complete collection, with 14 time-tested tunes for little ones, is available here.
This guide was lovingly arranged by award-winning musician, author, and educator Peter Penhallow, who has produced numerous albums for young children and books of easy repertoire. An added bonus is instructional videos for each song, clearly demonstrated by noted musician and teacher, Diane Nalini.
---