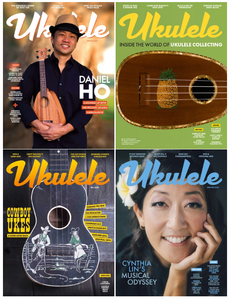 Digital Archive: 2020
$ 24.99

$ 24.99

Save $ 2.97
---
---
Get a year's worth of Ukulele with this digital archive bundle. Each issue is a treasure trove of lessons, songs to play, instrument advice, and so much more.
Some of the awesome people you'll find in this archive include Daniel Ho, Tiny Tim, Cynthia Lin, Sylvie Simmons, David Kamakahi, Bryan Tolentino, Herb Ohta Jr., Pomaika'i Lyman, and Halehaku Seabury.
Conveniently packaged as PDF files, you can save each issue to your computer, tablet, or mobile for reading on or offline.
---