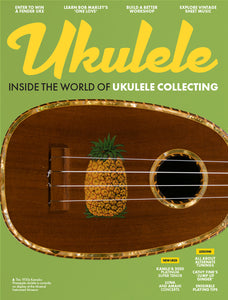 No. 29, Summer 2020
That beautiful instrument on the cover of our Summer 2020 issue is a 1930s Kamaka Pineapple on display in Arizona's Musical Instrument Museum—which ties into Greg Olwell's feature story about the world of Ukulele Collecting: What deep passions fuel the compulsion to collect ukes? Greg gets some answers about three collectors. Meanwhile, Sandor Nagyszalanczy looks at the wild and colorful history of Ukulele Sheet Music during the instrument's first Golden Age in the 1920s and '30s. Audrey Coleman talks to four top Hawaiian music pros—Bryan Tolentino, Herb Ohta Jr., Pomaika'i Lyman, and Halehaku Seabury—about the joys and challenges of Playing the Uke in an Ensemble. Jim D'Ville offers some valuable tips for teachers on Building a Better Ukulele Workshop. We also have a feature on the Dutch uke sensation known as Ukulelezaza, along with music for one of his short pieces.
Lessons
Heidi Swedberg and Daniel Ward dive headfirst into Alternate Tunings for the uke, which will help you extend the range of your instrument and also hopefully inspire you to try some new things. Heidi covers many possible tuning options, while Daniel uses three of his own short pieces in alt-tunings for you to try.
Learn to play Bob Marley's immortal good-vibes reggae anthem "One Love"
Cathy Fink breaks down her sprightly clawhammer uke tune "Jump Up Ginger"
 Gear 
Kanile'a 2020 Platinum Limited Edition super tenor
Luna Vista Deer concert
Amahi C-01 Exotic Woods concert
Also
Sandor Nagyszalanczy looks at the short–lived Tru-Frets ukes from the 1920s; Aaron Keim continues his saga about building a uke for his playing partner—his wife; Ukulele Events from June through October; reviews of the latest albums from the Jake Shimabukuro Trio and Beat-Lele, new jazz uke books from Paul Hemmings; and more!
---