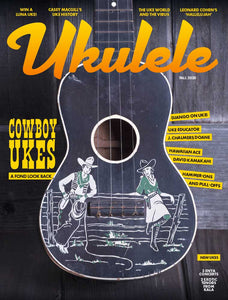 No. 30, Fall 2020
In this issue's cover story, Sandor Nagyszalanczy takes a fond look back at the colorful Cowboy Ukulele fad that swept the U.S. mainly during the 1940s and 1950s, when western films and TV shows were all the rage. They weren't great musical instruments, but they looked cool, were popular, and undoubtedly some got into the hands of kids who later became more serious players. In other features stories, Heidi Swedberg looks at the caring and creative ways folks in the ukulele universe have responded to the COVID-19 pandemic and its disruptions; we chat with the great Hawaiian uke player David Kamakahi, son of the legendary slack-key guitarist Dennis Kamakahi, and currently a member of the popular neo-traditionalist group Waipuna; Jim D'Ville interviews educator J. Chalmers Doane, who almost single-handedly turned Canada onto the ukulele and influenced generations of fine players; we look into the unusual art of pyrography and one of its leading exponents, Dino Muradian, who has "burned" intricate and beautiful images and designs into the wood of over 100 ukuleles; and Casey MacGill gives us a visual tour of the "Ukuleles I Have Loved" over the course of his long and successful career.
 Lessons and Songs
 Learn how to play Leonard Cohen's contemporary classic "Hallelujah" and the much-loved 19th century Stephen Foster standard "Beautiful Dreamer." Marcy Marxer offers a special tutorial on the song "Dark Eyes," which was popularized by Gypsy-jazz immortal Django Reinhardt, and Daniel Ward teaches the basics of hammer-ons and pull-offs through his original tune "Isolation Blues."
 Gear Reviews
 Three concert ukes from Enya: Nova U Carbon Orange; M6 Solid Mahogany; and K5 Solid Acacia
Two tenors from Kala: Chocolate Exotic Burl; and Bamboo
Also

 Jim D'Ville follows the build of a custom uke by New Mexico luthiers Pimentel & Sons; Eddie Scher offers a primer on copyrights and the public domain; we review the latest album by Andrew Molina; and more!
---