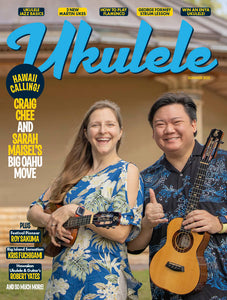 No. 33, Summer 2021
This issue has a partial focus on the ukulele's birthplace, Hawaii, and it starts with our cover story on two of the most prominent members of the contemporary uke scene, Craig Chee and Sarah Maisel, who moved from southern California to Oahu and have taken over production of the 2021 Ukulele Festival Hawaii in Honolulu. We also talk to UFH founder and ukulele instruction pioneer Roy Sakuma; look into the world of one of the Big Island's hottest young uke players, Kris Fuchigami; profile luthier Roberts Yates of the Big Island's Hawaiian Ukulele & Guitar; and Sandor Nagyszalanczy explores the life and career the man who claimed to be the inventor of the ukulele, Manuel Nunes. Sandor also has a fun photo essay on "Wild & Wacky Ukes," while Jim D'Ville introduces us to Germany's swingin' Bad Mouse Orchestra.

 Lessons and Songs
 Songs-to-play are Otis Redding's immortal #1 hit "(Sittin' on) the Dock of the Bay," and a wonderful retro tune by Victoria Vox (co-written with Casey MacGill) called "Daytime  Moon." Lessons include Daniel Ward on flamenco ukulele techniques; an in-depth primer on getting into jazz ukulele by Eddie Scher; and tips on playing George Formby strums from  Christopher Davis-Shannon.
 Gear
 Greg Olwell test drives two new Martin ukuleles: the T1 StreetMaster and the 0XK; and we throw the New Products spotlight on eight new ukes for 2021 from eight different manufacturers.
 And, of course, there's more…
---