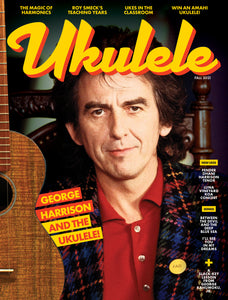 No. 34, Fall 2021
Our cover story this time is an in-depth article on George Harrison and the Ukulele, tracing the Beatle's long love affair with and advocacy for the uke, and also including info about Paul McCartney's and John Lennon's relationship to the instrument. Also connected to the George Harrison theme is a tutorial on playing "Between the Devil and the Deep Blue Sea," a tune from the 1930s that George recorded (on ukulele!) for his final album, Brainwashed; plus, the standard "I'll See You in My Dreams," which was the final song performed at the star-studded 2002 "Concert for George" a year after his passing. And in our gear reviews section, you'll find a write-up on the new Fender Dhani Harrison tenor—the signature model from George Harrison's musician son! We also have a review of a fine ukulele: the Luna Vineyard Koa concert model.
Lessons include Slack-Key Ukulele, with tips from master Hawaiian guitar and ukulele player George Kahumoku Jr., and a Daniel Ward tutorial on using harmonics on the ukulele.
Also in this issue:
The teaching legacy of pioneering ukulele star Roy Smeck
"Ukes in the Classroom" (which brings uke education to underserved communities)
The World Virtual Ukulele Contest
Interesting and strange ukulele patents
Another round of Uke Tales!
And, of course, there's more…
---