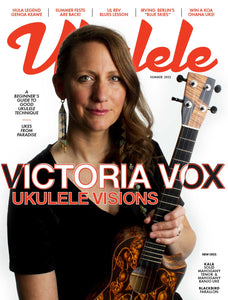 No. 37, Summer 2022
On the cover of the Summer 2022 issue is one of the ukulele world's most talented singer-songwriters: Victoria Vox, whose latest album, Nirvana in REM, is a fascinating, dream-like collection of songs inspired in part by the unusual visionary paintings of Fred Stonehouse. On the album, Vox employs the ukulele in a number of unusual ways.
Also in this issue you'll find an appreciation of the legendary Hawaiian soprano Genoa Keawe, as well as a story on her gifted uke-playing granddaughter, Pomaika'i Keawe, who is helping perpetuate the family legacy. Our resident historical archivist Sandor Nagyszalanczy turns his historical gaze to the colorful phenomenon of ukuleles with images of paradise on them, as instrument makers sought to cash in on the growing popularity of Hawaii. Other features include profiles of the popular uke-driven Nashville group Bob's Your Uncle and the remarkable Atlanta musician/teacher Angela Denise Davis, who has been arranging old African American spirituals for uke.
On the song and lesson front there's Eddie Scher's unique version of Irving Berlin's immortal 1920s song "Blue Skies"; a beginner's guide to good ukulele technique courtesy of Daniel Ward; a blues exercise from Lil Rev; and classical ukulele specialist Samantha Muir teaches an etude by Fernando Sor.
Also: Reviews of Blackbird's Farallon tenor and a two new ukes from Kala—a mahogany tenor cutaway and a concert banjo uke; listings of summer ukulele fests; Oregon luthier Kerry Char; pioneering Hawaiian uke-builder Jonah Kumalae; and a remembrance of Samuel Kamaka, Jr.
---