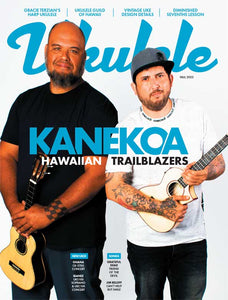 No. 38, Fall 2022
On the cover of the Fall 2022 issue are two ukulele-playing members of the popular Maui-based quartet Kanekoa, who have playing their eclectic blend of rock, reggae, Hawaiian, and other styles for 25 years now, amassing one of the largest and most devoted fan bases in the Islands. Their latest album, Songs from the Great Disruption, is one of the strongest of their long career.
Among the feature articles in the issue are profiles on singer-songwriter and harp ukulele specialist Gracie Terzian; and Eden Brower of the cool New York group Eden & John's East River String Band (which also includes famed underground cartoonist R. Crumb) who mostly play obscure tunes from the 1920s and '30s. Historian Sandor Nagyszalancy has a pair of colorful photo-filled features: one on the rich and sometimes unusual detail work found on vintage ukes; and the other on the surprising intersection of the 1920s uke craze with the rising popularity of American football. 
There are two songs to play: the Grateful Dead's beloved acoustic classic "Friend of the Devil," in a uke arrangement by Stephen Inglis; and Jim Beloff's fun and whimsical ode to the ukulele called "Can't Help But Smile." You'll also find illuminating lessons on mastering chord substitutions (by Daniel Ward), and one from Jim D'Ville with Adam Perlmutter on using dissonant diminished 7th chords.
Also, reviews of a new high-end concert uke from Ohana and a pair of affordable sapele instruments from Ibanez; Mike Chock and the history of the Ukulele Guild of Hawaii; fall ukulele Events listings; album reviews; more Uke Tales from readers; and James Hill's intriguing Uke Heads project.
---