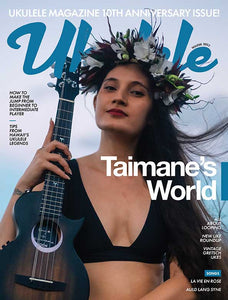 No. 39, Winter 2022
The cover of the Winter 2022 issue features Taimane (Gardner), who has evolved into one of the most popular ukulele artists today—a true global phenomenon whose videos have been seen by millions and who has toured the world more than any other contemporary uke performer. The story coincides with the releases of her latest album, HAWAIKI, which explores Taimane's Polynesian roots.
The Winter issue also happens to be our 10th anniversary issue, and we celebrate it by offering four fun lists of ten: Inspiring Quotes; Icons of Uke; Ten Years, Ten Great Albums; and Ten More Must-Hear Albums. Among the other features in the issue are Sandor Nagyszalanczy's fond and colorful look at the little four-string in ads, comics, and magazine and book covers; the lure and challenges of using loopers with ukes; and a retrospective on vintage Gretsch ukuleles.
Lessons include part one of a new series from Sarah Maisel and Craig Chee about Making the Jump from Beginning to Intermediate player. And there's also a supplemental article containing valuable tips on getting better from several of Hawaii's top players. For songs, Daniel Ward presents a chord melody version of the New Year's favorite "Auld Lang Syne," and Fred Sokolow offers his arrangement of the classic French tune "La Vie En Rose."
You'll also find a products section featuring a varied selection of eight New Ukuleles Released in 2022, a profile of luthier Jayne Henderson, reviews of albums from Beth Portman and Stephen Godsall, and more.
---