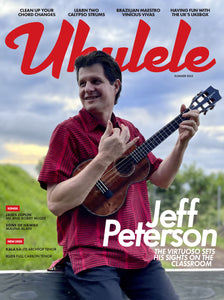 No. 41, Summer 2023
On the cover of the Summer 2023 issue is the Maui-born, Grammy-winning ukulele virtuoso and slack-key guitar master Jeff Peterson, who talks about his life as a performer, teacher, composer, and arranger who has contributed so much to expanding the repertoire of the ukulele. He has also travelled the world as an ambassador for the instrument, sharing uke with young people in Africa, Asia, and South America.
 Also in this issue you'll find stories on the Liverpool ukulele "boy band" Ukebox, who have become a popular attraction on cruise ships, of all places; Brazilian uke sensation Vinícius Vivas, who has increasingly been making a name for himself in the U.S.; and the irrepressible uke historian Sandor Nagyszalanczy gives us a look into his collection of decorated vintage banjo ukes.
As always there are songs to play, including an easy-to-play version of Kris Kristofferson's "Me & Bobby McGee" (the Janis Joplin arrangement!) and the Sons of Hawaii's classic tune "Mauna Alani." Sarah Maisel and Craig Chee finish their series on making the jump from beginning to intermediate ukulele, offering tips on chord transitions and positions, and Daniel Ward goes to the Caribbean for a lesson on calypso strums. The reviews this time are KLOS's nearly indestructible Full Carbon tenor and Kala's beautiful new two-tone Archtop tenor. Our Uke Makers profile is Pohaku Ukulele's inventive and whimsical Peter Hurney.
---