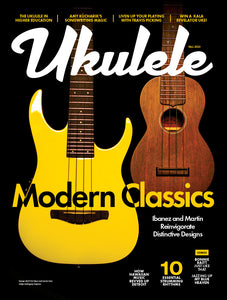 No. 42, Fall 2023
Our cover for the Fall 2023 issue features two new ukuleles from Martin and Ibanez, both a re-invention of sorts of classic instruments from the storied history of these two mainstays of the stringed instrument world. The reviews in this issue give the details, and their video demos on ukulelemag.com let you hear and see how they play.
This issue also includes a deep look at the ukulele in higher education in the U.S. and beyond, discussing the challenges and opportunities players have when pursuing serious study of the instrument; a beautiful photo and history essay about vintage Regal ukuleles and the multitudes of colors and designs that contributed greatly to the ukulele's popularity; a profile of the poet, artist, and folk ukulele songstress Amy Kucharik; and a historic look at Henry Kailimai and the Ford Hawaiians, who helped bring the ukulele from the West Coast at the Pan Pacific Expo in 1915 to Detroit and into America's living rooms the following year.
Victoria Vox shares her Travis picking arrangement of Bonnie Raitt's Grammy-winning song "Just Like That," and Christopher Davis-Shannon spices up the classic tune "My Blue Heaven" with some jazzy chord substitutions. Daniel Ward teaches a valuable beginner lesson on Travis picking, and Victoria Vox contributes another lesson about getting into the groove of a song.
Plus, we've got a report from the Las Cruces UkeFest, a tribute to Arhoolie Records founder Chris Strachwitz, a profile on the luthier and wood wizard Philip Davidson, a look at the Gibson's first banjo ukulele, the UB "trap door," and our album reviews shine a light on the soulful pop of Andrew Hoyt and the multiple stylings (and multiple ukuleles) of Nashville songwriters Bob Tigert and Lisa Webb.
---