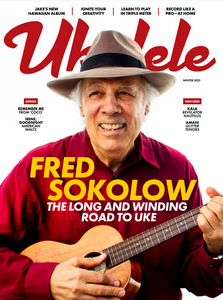 No. 43, Winter 2023
On the cover of this issue is the multi-talented musician and teacher Fred Sokolow, who has worn many musical hats in his long career. Though ukulele was in his orbit for a long time, it wasn't until later in life that he unlocked the joy of playing and teaching the instrument himself—and like so many of us, now he's hooked! In addition to a profile on Sokolow by Blair Jackson, you'll also find his arrangement of "Remember Me" from Disney's Coco.
Sarah Maisel's article details how the ukulele community stepped up for Maui wildfire relief, rallying funds and support from around the world with livestream concerts and boots-on-the-ground work in Lahaina and beyond. In this issue you'll also find advice from recording engineer Larry Crane on how to make pro-sounding ukulele recordings at home, with or without a big budget for fancy equipment; a profile on New Jersey-based ukulele player, falsetto singer, and radio host Bill Wynne and his love of Hawaiian music; and details about the Bend Ukulele Group and the future of the popular Uke-U Festival.
Learn the American classic waltz "Irene, Goodnight" in a simple arrangement by Foggy Otis; Feel the flow of other triple meters in Victoria Vox's lesson on grooving in three; play up the neck in any key in Daniel Ward's lesson on moveable chords; and help yourself get unstuck from a creative rut by deconstructing basic chords with Eddie Scher's lesson.
Plus, beautiful photos and details about a rare David Mahelona violin uke; a profile of Coast 'Ukulele founder and builder Kawai Carvelho and his gorgeous and intricate instruments; reviews of two new Glitter Tenor ukes from Amahi and the Kala Revelator Nautilus; and reviews of new albums from Jake Shimabukuro and 4stringboy.
---