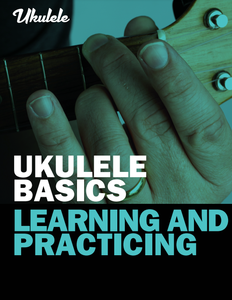 Ukulele Basics – Learning and Practicing
Over the course of nine invaluable and fun articles from the pages of Ukulele magazine aimed at beginners and more advanced beginners, some of the top names of the uke-teaching world—including Jim Beloff, Heidi Swedberg, Sarah Maisel, Craig Chee, Jim D'Ville and Cathy Fink—share important tips on everything from "Your First Ukulele Lesson" to optimal practice habits to tuning with your ears to "How to Read Ukulele Music." Great for players just starting out, as well as those looking to build a more solid foundation of knowledge and skills.
Please note: if you are purchasing these lessons for yourself, the price is $6.99 (choose the "personal use" option above). If you are a teacher, club leader, or other sociable person and plan on sharing this PDF for use by your students, members, or friends, the price is $9.99 (choose the "shared use" option above). Thank you!
---